Capacity and Performance Combine to Create a Powerhouse Storage Solution
Mérignac, France, August 28th, 2020 – PNY Announces today the expansion of its PRO Elite family of microSD Cards by adding the 1TB PRO Elite Class 10 U3 V30 microSDXC Flash Memory Card with A2 Application Performance.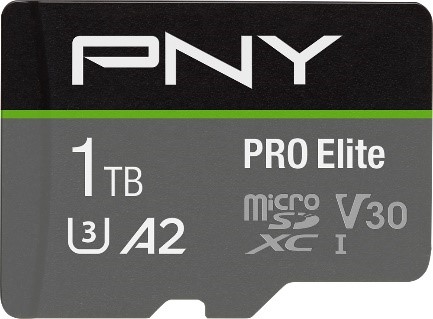 Rich in capacity and performance, the 1TB2 PRO Elite microSDXC Card offers all that is needed for professional photographers and enthusiasts alike to keep creating new content seamlessly. Whether multi-exposure shots in high definition or 4K video, the 1TB PRO Elite microSD card has enough storage capacity to keep you focused on your project or adventure and not worried about running out of storage space.
The 1TB PRO Elite microSDXC Card is rated UHS-I, Class 10, U3 and features V30 video speed allowing for 4K8K video recording. It offers read and write speeds of up to 100MB/s and 90MB/s3, respectively. In addition, A2 Application Performance enables users to run apps directly from the memory card. These impressive specs culminate into one powerful storage device capable of holding up to 182,000 photos at 20MP or up to 21 hours of 4K video at 60 frames per second.
According to the SD Card Association "Video Speed Class is defined to answer a demand for high resolution and high quality 4K8K video recording and it also has an important feature to support next generation flash memory such as 3D NAND. Furthermore, as it covers speed of HD(2K) video, it is possible to integrate into Video Speed Class from now on."
The sequential read speed of up to 100MB/s and write speed of up to 90MB/s ensure the fastest UHS-I performance when viewing or recording digital content stored on the microSD Card.
A2 Application Performance with minimum random read IOPS at 4,000 and random write IOPS at 2,000 allows Android smartphones users to run apps directly from the microSD card, freeing up much needed storage space for other functions and content.
The 1TB PRO Elite Class 10 U3 V30 microSDXC Card is compatible with a wide range of host devices, including: smartphones and tablets with expandable storage capabilities, action cameras, drones, 360-degree and body cameras, as well as other microSDXC enabled devices. A microSD to SD Adapter is included in the packaging to widen this range to include digital cameras, DSLRs, MILs and other SDXC enabled devices.
Product Specifications:
• Capacity: 1TB
• Format: microSDXC
• Interface: UHS-I
• Speed Class: Class 10, U3
• Video Speed: V30
• App Performance: A2
• Read Performance: Up to 100MB/s
• Write Performance: Up to 90MB/s
• Compatibility4: Smartphones and tablets, action & surveillance cameras, drones, computers, etc.
Availability:
PNY 1TB PRO Elite microSD Card will be available starting this week at SRP £224.34 via our partner Amazon.com
Follow us:
About PNY Technologies
Founded in 1985 in the United States, with a European head office in Mérignac, PNY celebrates over 35 years of success as a provider of electronic solutions for several high growth markets, making it a unique player in this market.
As a long-standing leader in the field of memory, the company is active on the photography, video and cellular telephone markets, providing comprehensive flash memory cards solutions and accessories.
For over 15 years, PNY has fostered a special partnership with NVIDIA and supplies the latest GPU technologies for the embedded and gaming markets, as well as professional applications in the medical, aeronautical, automotive and other fields.
More recently, PNY's professional applications department has developed their range to offer high added value solutions in the field of Artificial Intelligence and Machine Learning, making it one of the major players in the industry.
The company employs 150 people in Mérignac and is present in 50 countries around the world, generating 85% of its turnover on the international market.
http://www.pny.eu/en/
(1) The PNY logo is a registered trademark of PNY Technologies, Inc. All other trademarks are the property of their respective owners. © 2020 PNY Technologies, Inc. All rights reserved.
(2) For Flash Media Devices, 1 megabyte = 1 million bytes; 1 gigabyte = 1 billion bytes. Actual useable capacity may vary. Some of the listed capacity is used for formatting and other functions, and thus is not available for data storage.
(3) Based on PNY's internal testing; performance may vary depending upon host device. Not all host devices can achieve minimum 100MB/s sequential read speeds. 1x = 150KB/sec.
(4) Compatible with host devices enabled with a microSDXC or SDXC slot.